Best 500+ English Shayari
Get the Best English Shayari for Love, Sadness, Alone, Attitude, Friendship, and Birthday. Also best motivational Shayari, the best Dosti Shayari, and more.
Here are the Top 500+ English Shayari for Love, Sadness, Alone, Attitude, Friendship, and Birthday. English Shayari in 2 lines. Also, get attitude quotes, Love Shayari to express Your Thinking in the English language and Strive towards Success. In this article, we will explore different categories of English Shayari, including love, sadness, attitude, friendship, life, 2-line Shayari, best friend, and birthday Shayari.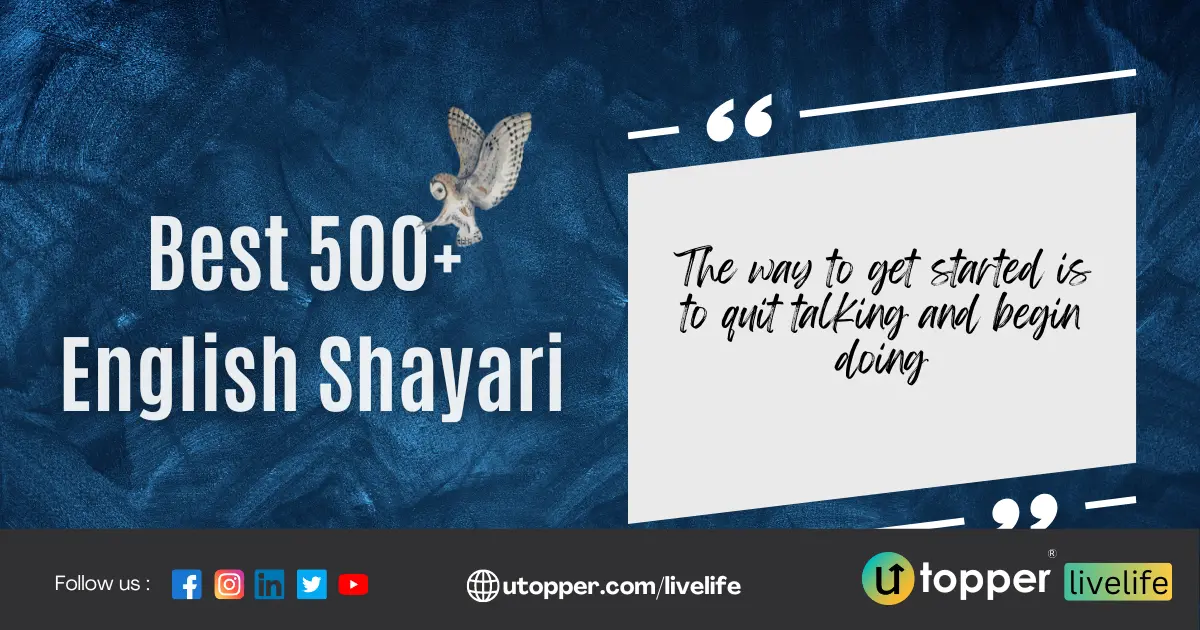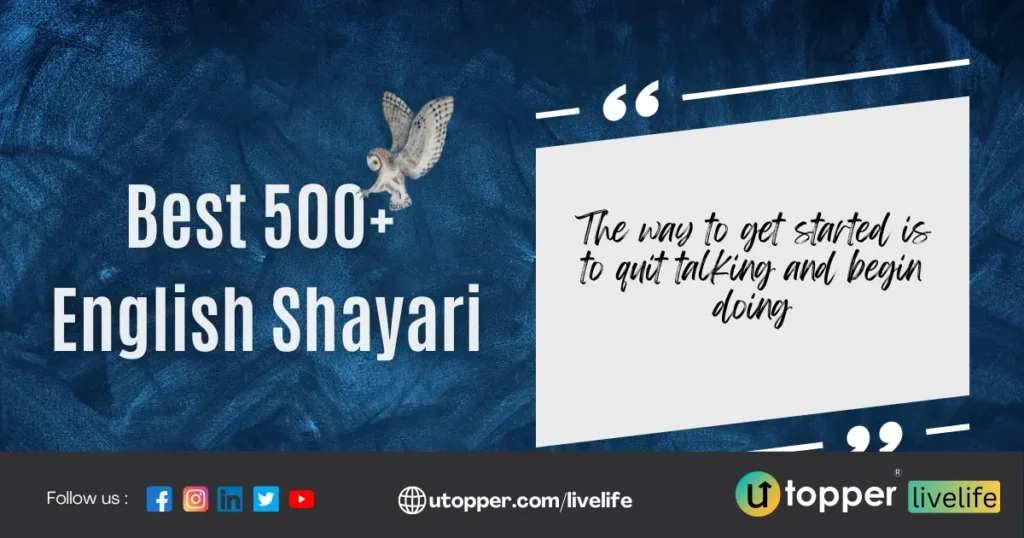 Click here to get More WhatsApp dp, Shayari, Wishes in Hindi, English, and Video Status Visit the Website.
love Shayari in English
Love, the most profound of emotions, has inspired poets throughout history. Love Shayari in English expresses the intense feelings experienced in romantic relationships. Whether it's the exhilaration of falling in love, the pain of heartbreak, or the longing for a beloved, love shayari captures the essence of these experiences.
Tu Hi Mera Pyaar Hai
Tu Hi Meri Bandagi
Tu Hi Mera Khuwaab Hai
Tu Hi Meri Zindagi .
Teri Yadon Se Shuru Hoti Hai Meri Subah
Fir Kaise Keh Du Ki Mera Din Kharab Hai .
Aisa Kya Bolun Ki Tere Dil Ko Chhoo Jaye
Aisi Kisse Dua Maangu Ki Tu Meri Ho Jaye .
Jo mai ruth jau to tum mana lena
Kuch na kahna bus sine se lga lena .
Dadkano ko kuch to kaabu me kar e-dil
Abhi to palake jhukai hai
Abhi unka muskurana baki hai .
Kyu Na Gurur Karu Khud Par
Mujhe Usne Chaha
Jisko Chahne Wale Hazar The .
Ishq Ka Junoon Jab
Kisi Ko Chadhta hai
Tab yeh Dil Pyar ki
Nayi Kahani likhta Hai .
Ishq Mohabbat Deevangi Ye Bas Lafj The
Jab Tum Mile Tab In Lafjon Ko Mayne Mile .
Mohabbat Bhi Sharab Ke Nasha Jaisi Hai Dosto
Karen To Mar Jayen Aur Chhode To Kidhar Jayen .
Vo lamha bana do mujhe jo
Gujar kar bhi tumhare saath rahe .
Hote tum paas to koi shararat karate
Lekar tumhe bahon mein bepanah mohabbat karte .
Wo Hasrate Dil Ki Ab Zuban Par Aane Lagii,
Tumne Dekha Aur Ye Zindagi Muskurane Lagi .
Tere ahsas ki khushboo
Rag rag mein samai hai,
Ab tu hi bata kya iski bhi koi davai hai .
Zamana kuch bhi Kahe,
Fark Nahin Padta Kyunki Tum,
Mere Ho Aur Main Tumhari hun .
Tere ahasas ki khushboo rag rag mein,
Samai hai ab tu hi bata kya,
Iske bhi koi dawai hai .
Ji chaahe ki duniya ki har ek
Fikr bhula kar dil ki baten sunaon tujhe
Main paas bithaakar .
Bhul Jata Hu Main Sab Kuchh Aapke Siwa
Ye Kya Mujhe Hua Hai
Kya Isi Ehsaas Ko Duniya Ne
Ishq Ka Naam Diya Hai
Wo To Khushbu Hai Hawaon
Mein Bikhar Jayega Masla
Phool Ka Hai Phool Kidhar Jayega .
To najren jhukana bhi mohababat hai
Poochh lo sare jahan se
kisi ka dil churana bhi mohababat hai .
Zindgi To Ban Hi Gai Ho Tum
Ab Meri Wife BHI Ban Jao .
sad shayari in English
Sadness is an inherent part of the human experience, and sad shayari in English provides solace to those going through difficult times. This genre of Shayari allows individuals to express their sorrow, grief, and melancholy in a poetic manner. It serves as an outlet for catharsis, enabling people to find comfort and understanding in their pain.
Yakeen tha ki tum Bhool jaoge mujhko,
Khushi hai ki tum ummeed par,
Khare utre.
Tum bhee kar ke dekh lo mohabbat
Kisi se, jaan jaoge ki ham
Muskurana kyon bhool gye.
Mere hathon se meri takdir bhi
Vo le gaya, aaj apni aakhri,
tasveer bhi vo le gaya.
Tere bad hum jiske honge.
Us rishte ka naam majboori hoga.
Suno na, har roz rula dete ho,
kya mere dard se dard nhi hota tumhe.
Koi kitna bhi himmatwala ho,
Hamesha khas inshan ki yaad rula deti hai.
Kisne kaha alag Hona,
Ishq ki haar hain,
Jo pyar bichad gaya,
Aakhir wo bhi to pyar hain.
Aaj mera vaqt bhi,
Meri haalat dekh kar ro pada,
Aur bola kharab mein chal raha hu,
Aur saja tumhe mil rahi hai.
Mat kiya kar e Dil, kisi se mohabbat itni,
Jo log baat nahi karte Wo pyar kya Karenge.
Yu to har sakhs, bade ahtaram se mila,
Magar jo bhi mila, apne he kaam se mila.
Dekh li is duniya ki yaari,
Badal gaye sab bari bari.
Kisi ko bhi nahi chaha maine,
Jaan ek tumhe chahne ke baad.
Teri meri bane to bane kaise,
Tujhe nibhana nahi aata,
Mujhe bhulana nahi aata.
Mohabbat ka dard dil mein chhupaaya bahut hai,
Sach kahun uski mohabbat ne rulaya bahut hai.
Mohabbat kabhi jhoothi nahi hoti hai,
Jhoothe to kasame, vaade aur log hote hain.
Dua karo jo jise mohabbat kare,
Vo use mil jaaye, kyonki bahut,
Rulati hai ye adhoori mohabbat.
Maaf karna mujhe tumhara pyaar nahi chahiye,
Mujhe mera hansata khelta dil vaps kar do.
badlte nahi jazbaat mere tarikhon ki tarah,
Bepanah mohabbat pahle bhi thi aur aaj bhi hai.
Bahut dard hota hai yah sochakar
Ki mujhe aisa kya pana tha jo maine,
khud ko bhI kho diya.
Kabhi milan kabhi judai likh diya,
Ab tumse na milna mazburi hai meri,
Isliye hamne apni zindgi ka naam inzaar rakh diya..
attitude Shayari in English
Attitude Shayari in English reflects an individual's perspective, confidence, and self-assuredness. It embodies a sense of empowerment and self-expression, allowing one to assert their personality and beliefs. This genre often highlights strength, resilience, and the ability to overcome challenges with determination.
Don't hate me
just get to know me first!
My life, My rules, My attitude!
My choices are like fingerprints,
they make me unique.
I have attitude for those
who force me to show them.
I don't have an attitude!
I have a personality you can't handle!
I am who i am.
Your approval is not needed.
I do very bad things and
i do them very well.
Don't study me. You won't graduate!
Born to express, not to impress.
I am not perfect but I am limited Edition.
Never underestimate me
because I am more than you think.
I am who you couldn't even dare to be
If you want me to control my temper
you need to control your stupidity.
In the land of gods and monsters,
I was an angel.
Don't feed your ego with my soul.
You couldn't handle me
even if i came with instructions.
Judge me when you are perfect.
Excuse me. I found something under
my shoes oh it's your Attitude.
I may look innocent,
but I may surely put you in trouble.
If you wanna come second
Follow me!
I can resist everything, except temptation.
It's my life,
so keep your nose out of it.
Jealously is a disease
get well soon!
Beyond your darkness, I'm your light.
Don't take my kindness as a sign of weakness.
friendship Shayari in English
Friendship is a cherished bond that enriches our lives. Friendship Shayari in English celebrates the beauty of these relationships and the trust, support, and joy they bring. It captures the essence of friendship, reminding us of the invaluable connections we share with our friends. Best friend Shayari celebrates the irreplaceable role our closest friends play in our lives.
/
life shayari in English
Life is a journey filled with ups and downs, triumphs, and trials. Life Shayari in English encapsulates the myriad experiences we encounter on this path. It reflects on the meaning of life, explores philosophical themes, and offers wisdom and guidance to navigate the complexities of existence.
The goal is not to wear brands
It is to become one
I am always hungry
For success
Always Remember Beginning is
The hardest part
Make money to live
Don't live to earn money
If you want to live a happy life
Tie it to a goal,
not to people Or things
Anything you lose
Comes around in another form
Feel the strength &
Become Fearless
Show me your status in society
Not on social media
Now I remember why my teachers always told me
TO keep eyes on my own paper
Money is like a Dettol
It kills 99.99% of problems
Count your blessings
Not your problems
Don't call it to dream
Call it A plan
Work until you feel
Dubai tour is cheap
A loyal person is always
Better than a royal person
One day you will laugh at the problems
Which you have today
Pain is temporary
Pride is forever
Work like a hustler
Sleep like a baby
Don't think about saving money
Think about making more money
Hard time to teaches
You a valuable lessons
Old habits Won't
Bring new results
No Pain, No Gain
One Aim, Own Game
Never interrupt your enemy
When he is making a mistake
Train your mind to stay calm
In every situation
Behave like fool
Think like Brilliant
Early Success Is a Scam
Great Things Take TIme
2 line Shayari in English
In a world where brevity is valued, two-line Shayari in English presents a concise yet impactful expression of emotions. These short, profound verses capture the essence of sentiment in just two lines, making them easily shareable and relatable. 2 line shayari is perfect for social media platforms where concise and impactful messages are appreciated.
Khamoshiyan bevajah nhi hoti,
Kuch dard avaj chin liya karte hai.
Kasur to bahut kiye jindagi me,
Par saza vaha mili jha bekasur the.
Khubsurat sa vo par tha,
Par kya kare vo kl tha.
Jo log andar se mar jate hai,
Aksar vahi dusro ko jina sikhate hai.
Jindagi me ek baat to yah hai,
Ki tay kuch bhi nhi hai.
Kalah par vijay pane ke liye
Maun se bada koi shastra nhi hai.
Character agar kapdo se tay hota,
To kapdo ki dukan mandir kahalati.
Jo rishte gahre hote hai,
Vo apnapan ka shor nhi machate.
Bharosh jitna kimati hota hai,
Dhokha utna hi mahanga ho jata hai.
Kuch majbut rishte
Badi khamoshi se bikhar jate hai.
Galti bhul jao magar
Sabak mahesha yaad rakho.
Majbut hone me maza hi tab hai.
Jab sari duniya kamjor karne par tuli ho.
Raja ki tarah jine ke liye
Gulam ki tarah mehanat karni padti hai.
apne is jivan me sabse sikho
Lekin follow khud ko karo.
Aap jindagi me jitna acche
Banoge utna hi ghatiya log milenge.
Harna manjur hai mujhe
Par khel to bada hi khelunga.
birthday Shayari in English
Birthdays are joyous occasions that mark the beginning of a new year of life. Birthday Shayari in English adds an extra touch of celebration and warmth to birthday wishes. It allows us to convey our heartfelt greetings and blessings to the birthday person in a poetic and memorable way. Whether it's expressing love, and appreciation, or simply showering them with good wishes for the year ahead, birthday Shayari in English adds an element of beauty and artistry to the birthday celebration.
English Shayari provides a unique platform to express a wide range of emotions and experiences. From the depths of love to the pangs of sadness, from the boldness of attitude to the warmth of friendship, from contemplating the meaning of life to celebrating special occasions, English Shayari offers a diverse palette of expression. It allows individuals to connect with their own feelings and connect with others who resonate with their words.